NEW
Wonderfully soft modern sweater by NAUTICA
30% NYLON / 25% VISCOSE/ 22%WOOL / 15% COTTON / 5% DEHAIRED ANGORA / 3% CASHMERE
Sizes: Medium, Large & X-Large
Men's Grey fuzzy acrylic turtleneck with light grey stripes across the chest
Large

White acrylic crew neck pullover with blue snowflake design, by Alfredo
Medium

Greyish-brown cotton crewneck with green & red design by Towncraft
Large (48)
Cream colored retro acrylic cardigan by Izod Lacoste
Medium (40)
Natural white mohair-lambswool crew neck pullover by Tiroroa
Medium (42)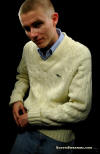 Unisex Ivory cable-knit alligator V-neck tennis/cricket sweater by Izod Lacoste
Size Large (44)
Unisex Speckled Espresso Brown V-neck cable-knit pullover sweater by First Connection
Size Large (46)
wo
Black ultra-soft cotton crewneck pullover sweater by Polo Ralph Lauren
Size Large (46)
Black 100% Lambswool V-neck pullover
Small (40)
Green wool/cashmere cabled crewneck pullover sweater with pink moose by Abercrombie
Size Medium (42)
Grey New tweed zipper-front cardigan sweater w/red stripes at waist & cuffs by The Gap
Large (46-48)
Light brown wool patchwork crewneck pullover by Eastern Mountain Sports
Medium (46)
Grey wool crew neck with square pattern by Boat House Row
Medium (46)
Sorry, Sold

White cashmere turtleneck designer sweater by Sean John
X-Large (48)
Men's Purple retro V-neck acrylic faux mohair pullover by Adam Sloane
X-Large
Men's Natural white acrylic zipper-front crewneck sweater with blue/gold design across chest and trim by St. Michael
Large

White hand-knit faux-mohair acrylic V-neck pullover with blue stripes across chest
Size 42
Off-white wool crew neck pullover with green design, by Harvey Nichols (London)
Medium
Men's white Retro sweater from The Buckle. Made by Twenty Six Red. With rainbow stripe across biceps, and solid blue stripe on sleeve extends all the way from neckline to bottom of sleeve.
Large
Natural white Aran style wool new crewneck pullover, by Next
Medium
Natural white thick & heavy Hudson Bay Point style with green-red-yellow stripes across chest & shawl-neck pullover by Eddie Bauer
Size 42
Captain Kirk sweater
Medium
Doesn't this look like something Kirk would have worn.

It's got leather panels on the front, with two pockets, the rest is acrylic.
Men's White w/grey Norwegian snowflake design crewneck cardigan with metal buttons by Jersild Distinctive Sportswear
Medium-Large
White acrylic V-neck or crew neck pullover with narrow navy and light blue stripes across chest.
Medium
Unisex NEW Natural white contemporary lambswool/angora V-neck pullover by The Gap
Medium
Men's Black & White cardigan with black leather trim by COSI
Small-Medium
Black cotton pullover with grey V-neck argyle pattern up the front center by Merona
Small (38)
Men's multi-color green/red/blue round neck Shetland wool pullover by Bill Ditfort Designs
Small
Light blue two-tone rib-knit boatneck mohair-blend pullover sweater by International Male
Size 54
Tan merino wool/mohair V-neck pullover sweater (no label)
Size Large (46)
Black Shetland wool cardigan
Large (42)
Burgundy 100% wool cardigan sweater with front pockets by Abercrombie & Fitch The Big Sweater
Size 50
Yellow brushed acrylic crew neck pullover by Brookshire
Small
White retro acrylic zipper-neck pullover polo collar sweater with rainbow striped neck and sleeve bands by Christopher Rand
Large (46)
Blue speckled w/light blue stripped trim, zipper-front by Guess
Size 42
Punk/Grunge
New black fake mohair pullover punk sweater/mod/rave, 90% Poly/10%Rayon by Johnny Max, Size Small

Navy blue acrylic sleeveless vest with thin white stripes across chest by Bugle Boy
Size 40-42
Unisex Mauve Aztec style round-neck pullover sweater with grey/black/white trim, no label
Size 42
w